Here we go here we go here we go!
I am going to use exclamation points in an attempt to fire myself up!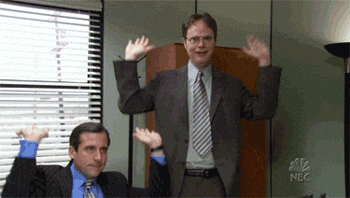 Not that I'm not fired up. I am really, really excited to dive into a fresh new story and play with words for the next three months. But hell if I'm not nervous again. This is my fifth go-around in the novel-writing biz, and it's still daunting. I've written the first page, just exploratorily, figuring out where I want to begin, but then I closed the document and basically acted out this gif.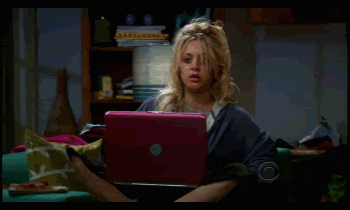 Maybe it wasn't that dramatic, but it felt that dramatic. BEGINNINGS ARE SCARY. ENDINGS ARE SCARY. EVERYTHING IS SCARY.
Which brings me to the topic of this next book. (Look at that segue.)
Then I Defy You, Stars is going to be another young adult contemporary fantasy novel. Similar playground to the Heartfire one, with a real world environment that differs in one big way, a way that forces the characters to explore on a different level what we in non-fantasy world also explore. I'm not ready to reveal that way quite yet, but I will tell you that the main exploration will be into the future. The unknown. How we can embrace it instead of fearing it.
It's something I personally have been exploring for the past year, and I'm so pumped to play around with it fictionally.
This is the most pre-planning I've ever done for a book. I am a very impatient person, and I like to just get the ball rolling. But for this one, I have about nine secondary characters who all needed some serious development. I really spent some time with each one, figuring out who they were, what they wanted, outside of just how they impact the main character's journey.
I've also been nailing down the world. The fantastical element. I learned that while writing Heartfire, that it was all well and good that hearts went up in flames when they got broken, but I hit a couple roadblocks along the way in terms of how that impacted the world. So for TIDYS, I'm looking at the societal impact of the fantasy element from all sorts of angles.
My goal is to finish the first draft of this book by November 30th, when I will be attending a three day writing workshop in Big Sur. That gives me just shy of three months, and considering I wrote Heartfire in a little less than two months, I know I can do it. It's just going to require an ambitious word count schedule of about 7k words a week.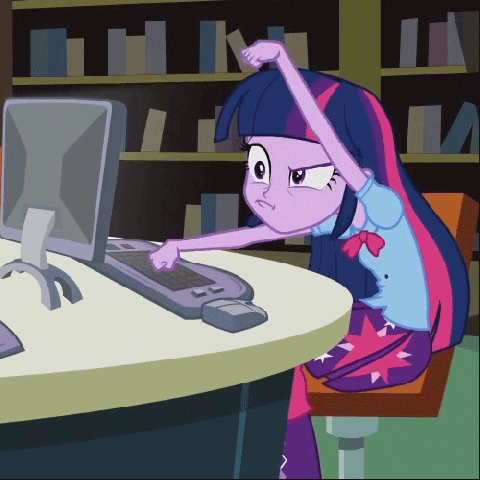 That will also give me a chance to take my pre-revision break during the holidays and truly get in the snowman-building, carol-singing, cocoa-drinking spirit of the season. Basically, it's The Plan. It's not just an arbitrary deadline I've set for myself. I am hellbent. Bent by hell. (Nobody ever turns that phrase that way, huh.)
But I guess that means… it's time to really get this show on the road.